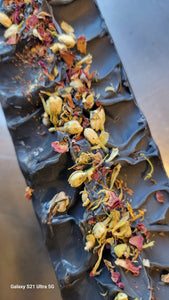 Rose water, Evening primrose oil, and activated charcoal  are the shining stars in this incredible bar of soap.
Rose water has been used for centuries to restore beauty. It helps restore PH, balance and improve complexions. It helps reduce redness and inflammation and is especially helpful for people with problem skin such as acne, eczema and rosacea. 
Evening primrose oil contains high concentrations of omega fatty acids. These fatty acids are essential for healthy skin. They actually protect and balance the skins microbiome, helping prevent inflammation caused by acne or other skin disorders. Rosewater also works as a barrier helping retain moisture and water in the cells
Activated charcoal goes deep into the pores, drawing out toxins and impurities, dirt and oils. It's powerful cleansing  properties slough off dead skin cells, helping cell turnover, leaving your skin fresh, supple and even toned. 
Ingredients 
Saponified olive oil, **coconut oil, **palm oil, **shea butter, **cocoa butter, evening primrose oil, caster oil, avocado oil, *ylang ylang essential oil
*Organic 
**Organic, Fairtrade, Rainforest Alliance Certified 
(Not intended to diagnose or treat disease)